This was one of those films where you think 'this is gonna be a good film', despite not knowing exactly why. Well, I can tell you that my hunch was spot on – this was an amazing film. I'm a big fan of cool, unpredictable films and this certainly falls into that category for me, with Edgar Wright producing another very stylish, entertaining and original movie.
Wright has a very unique, and oddly satisfying, directorial style – and he uses it to full effect in this film. He undoubtedly deserves the most praise for the success of this film, providing the perfect blend of originality (providing one of the craziest and least predictable endings to a film in a long time) and style with gripping action and insane chase scenes – whilst also subtly weaving in a romantic subplot that had me shippin. I think Marc Webb showed with 'Amazing Spider-Man 2' just how difficult it can be to find the right balance without making the film feel rushed, but Wright manages to nail it with ease. Well, at least for the most part – towards the end things get so insane that it just makes you think 'would she really be staying with this guy through all this shit, despite only going on a few dates?'. But, all in all, the chemistry between the characters makes the whole thing work.
A lot of credit should go to Ansel Elgort (Baby) and Lily James (Debora) for helping to create this chemistry. There is so much said with so few words, and that's an incredibly difficult skill to master – leading to the audience feeling fully in support of their relationship despite, as I said earlier, them having little time together. This is a skill that Elgort shows throughout the film, ensuring that the audience truly understands his character despite him saying very little.
Surprisingly, it is actually Bats (played by Jamie Foxx) who probably speaks the most – and that's no bad thing. In fact, Foxx was probably the stand-out performer in this film, playing the ruthless gangsta role brilliantly. In some scenes, he is actually pretty intimidating, and his constant jabs at Baby genuinely piss you off throughout the film. He's a great antagonist, and helps to turn this film on its head towards the end, which sets up a crazy final half an hour.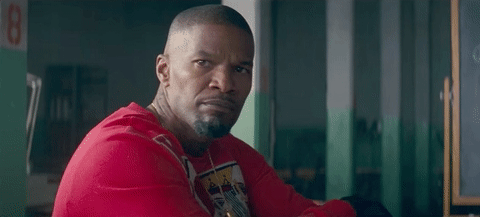 As I've said earlier, the action in this film is really impressive, especially the chase scenes – both in the car and on foot. In terms of driving, this is possibly one of the best films I have seen, helping to make it a super cool film. Not only are the chase scenes incredibly exciting, but they're also really clever, helping to add to the originality of the film.
Yet these scenes would not be as good without the amazing soundtrack. It's weird how important a soundtrack can be for a film, and it is an integral part of this one. Right from the very start, the thrilling song 'Bellbottoms' helps to set an exciting and hectic scene – and Wright ensures that each key scene thereafter is complemented by the perfect tune. Much like with 'Guardians of the Galaxy', I was as buzzing to listen to the soundtrack again as I was to watch the film, which, I think, adds to overall coolness of the movie.
One of my favourite films of 2017.   
– G